There are so many different ways in which to deliver growth, and all should be considered for viability. B2b companies believe that the biggest opportunities for growth are through launching new products and improving customer loyalty.
Finding areas for growth
Through the 1980s and 1990s Sir Clive Thomson built Rentokil from a tiny royal rat-catcher into a sprawling services giant with 130,000 employees and a value of nearly £14 billion ($23 billion). It earned him the sobriquet "Mr 20 Percent". As always happens, the good times came to an end. It is not possible to continuously grow by that amount, year on year, forever.
And yet, businesses have an insatiable appetite for growth. When the good times begin to tighten, a company that was comfortable selling its products to everyone and anyone may begin to review its strategic options. Igor Ansoff had advice for such companies based on a simple premise – you can make money out of selling your existing products to your existing markets or you can push them into new markets. Equally, you can find products which your existing customers may wish to buy from you. Finally, and in fact the most difficult strategy of all, you can move beyond your current markets into new ones and find new products to sell. The Ansoff paradigm presents us with a guideline of how we should manage our business in times of plenty and times of famine.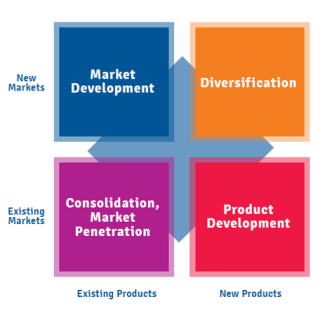 When the going gets tough it is especially difficult to move into new markets where it is necessary to start from scratch and where fresh competitors will vie for market share. The strategy of pushing into new markets is something that we should focus on only when we have the money and resources to do so – not when our back is against the wall. It is more prudent to take risks in the new and the unknown in times of plenty and when economies are expanding rapidly.
Hard times are inevitable in business. There is never a decade which goes by without some slowdown in the economy. Product life cycles may mean that the market you serve moves into decline. The swings may just be for a short period and you can ride them out, or they may be systemic and you need to think about survival in the longer term. When times are hard it is much more difficult to make money from selling more or charging more. The most obvious route to profits in these difficult times may be from saving money – cutting costs – but there are limits as to how far one can go with this strategy.